Multi pet insurance discount – give your best friends the cover they deserve
We all know that more furry friends = more fun! Why not cover them for all their adventures with our multi pet insurance discounts? Simply get a multi pet quote online and add all your pets in one go. You'll get a price for each pet and you can choose the level of cover for each of them so it suits you…and your pocket. Not only will you have peace of mind, you'll also enjoy a 5% discount for each feline friend and canine chum you insure with us.
Minimum premiums apply (including Insurance Premium Tax) of £98.16 for dogs and £67.88 for cats.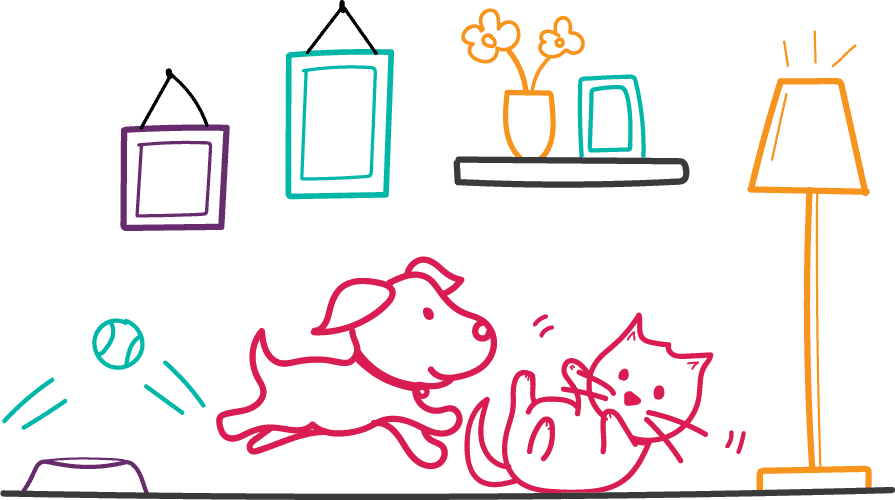 Insurance – benefits
With many options to choose from, we've broken it down for you so you can quickly
compare our pet insurance policy and benefits.
MiPet Cover Benefit
LifetimeFlex
LifetimeFlex
LifetimeFlex
365Flex £2.5k
365Flex £5k
Vet's fees Choose from
£10,000 or £12,000
per year
Including complementary therapies up to
Fixed excess Per condition, per year
Optional* variable excess Payable in addition to the fixed excess. *Once added, it cannot be removed for the lifetime of the policy. Variable excess is compulsory for dogs 6 years+ and cats 8 years+.
Death from illness (max age 8)
Third party liability (Dogs Only)
Emergency expenses abroad
Repeat tick and Worming (If you're delayed returning to the UK)
View policy document
Lifetime cover explained: New accidents and illnesses (conditions) are covered up to the specified financial limit in each policy term. If the limit is reached during the policy term, the cover stops until the policy is renewed. At the renewal date the limit is fully reinstated and the condition(s) will continue to be covered. This is subject to the insurer inviting the policy renewal and payment of premiums by the due date. No further cover will be provided beyond the cancellation or expiry date of the policy. Please be aware that you need to renew your policy each year for cover to remain in force. Like humans, our pets are more likely to be affected by illness as they get older. This means that every year your insurance premium will increase even if you haven't made a claim. This increase will be significant if you have claimed. If your pet suffers an illness during the policy term you may find it difficult obtaining cover for these conditions from other providers.
Existing customers
Call now on 0808 164 7999
to discuss your policy with us.
Monday - Friday: 08:00 - 20:00 Saturday: 09:00 - 14:00