The UK's Most Pup-ular Dog Walking Spots
Very much in the news at the moment, dog ownership is on the up, especially since the lockdowns of 2020. One of the joys of canine companionship has to be a good dog walk – boosting wellbeing, stimulation, fitness and bond for both you, the owner, and your four-legged friend.
Pedigree, rescue or mixed breed, all dogs need taking out regularly for 'comfort breaks', exercise and to keep them stimulated.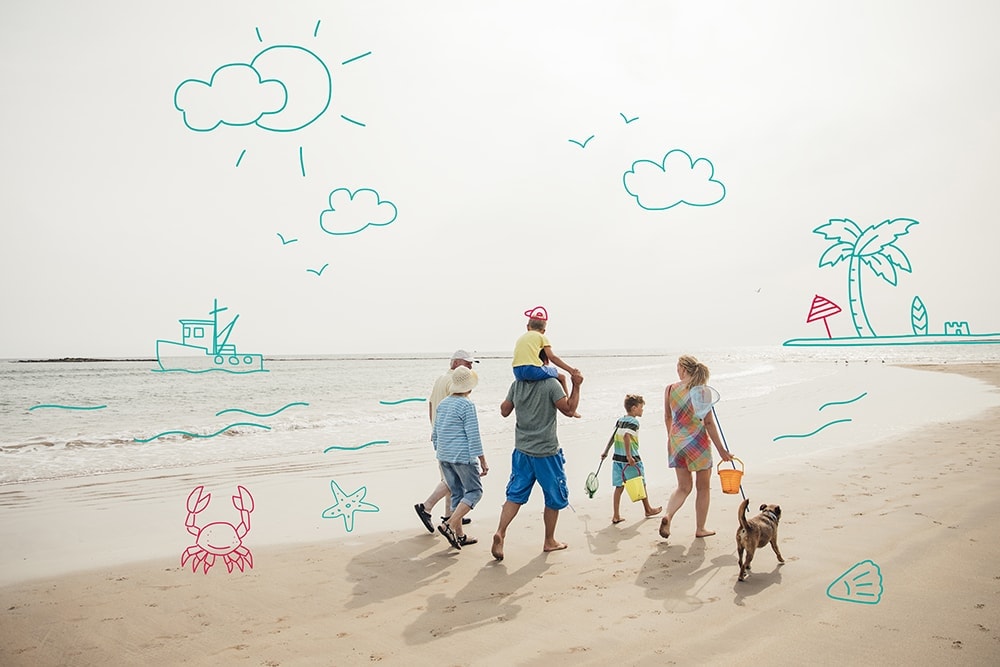 Where you and your pooch live will largely determine where and how you exercise them from day to day. It might be a quick game of fetch in the local park during the week, but what about those special days and weekends when there's more time to dedicate to your furry chum? Where are the best dog walks in the UK?
Using Tripadvisor data, Animed Direct looked at 200 of the top dog walking spots within the UK. They collected this data by analysing how many times 'dog walking' is referenced in the reviews for these places.
This article looks at the variety of dog walking areas and focuses on some of the most popular – both in terms of type of walk and specific places. Why not check out our ''Seven Great Dogs Walks in England' article too?
Read on for inspiration about the UK's most popular dog walking spots before you grab your dog lead!
The top 10 dog walking spots
The following list shows the top ten dog walking spots, organised by number of dog walking reviews.
Taking top spot, Hengistbury Head Beach boasts unspoilt golden sands backed by low sand dunes. It's in an area that's designated as a Site of Scientific Interest and a Local Nature Reserve.  There's plenty of room to roam, air to breathe and space to think. Although largely uncommercialised, there's a sizeable car park and cafe to make your dog walking experience even better.
Most dogs love beach life! And this is reflected in the results here with three beaches in the top five. There's little better than watching your furry friend dash around, digging, playing in the surf and generally having a whale (ahem!) of a time.
Please do check before taking your canine chum to the seaside, as many resorts only allow them on the sand at certain times of year (often October to February, i.e. in winter). You could also ask local dog walkers when you get there. There are no problems with the beaches listed above as dogs are allowed on all four sandy beaches year-round. There are restrictions or small restricted areas for all except Hengistbury Head, however.
In second place, Bradgate Park was originally a deer park for hunting, enclosed in the 12th century. Today it offers 800+ acres of greenery, river, reservoir, ruins of an old country house, paths, woodland and various different areas within easy access of Leicester city centre. Great for socialising puppies (and grown dogs) but, one word of caution, any unsteady dogs (potential 'Fentons') need to be kept on a short lead to avoid chasing the deer in certain parts of the park.
Coming in third place, family-friendly Attingham Park in Shrewsbury is an 18th-century stately home and estate run by the National Trust. It offers acres and acres of grounds and gardens for you to explore with your faithful friend. All well behaved dogs are welcome on the lead outdoors but only therapy dogs can access the indoor spaces. There is even a designated off-lead dog walking area for burning off that extra bit of steam!
Designated a local nature reserve, Newmillerdam Country Park which scored sixth place, is a truly stunning spot, located just south of Wakefield. Featuring a surfaced walk around a beautiful, large lake, it's definitely dog friendly. You'll also find trails for children, joggers, cyclists and horse riders, as well as beautiful woodland. The Dam Inn and Fox and Hounds pubs are at either end of the park and both welcome four-legged family members. Pawfect!
If you and your hound are more outward bound, why not try hiking with dogs in the UK?
At 4.5 miles, the Ingleton Waterfalls Trail, which scored 8th place, is a beautiful, relatively short walk, but does come with its challenges. While the trail offers a footpath that runs close to two rivers and beautiful waterfalls, it's run on a one-way system. This means there's no turning back the way you came; robust footwear is definitely needed. On some tracks of the trail dogs must be on leads.
Wherever you choose to explore, have fun!
Cover for adventurous pups
It's always a great idea to have dog insurance in place in the case of unexpected illness or injury. Cover your canine companion throughout all of their adventures with LifetimeFlex, our lifetime pet insurance policy offering up to £12,000 in vet fee cover. It's so easy to get a quote and sort out their cover in minutes!
You might also be interested in…
Existing customers
Call now on 0808 164 7999
to discuss your policy with us.
Monday - Friday: 08:00 - 20:00 Saturday: 09:00 - 14:00