Explore England: Seven great dog walks
Depending on where you live in the UK, there are probably going to be some interesting and beautiful dog walks in your area – some of which you may not have visited before. Here are some of our top picks for idyllic dog walking spots throughout England to get your best friend's tail wagging…
Haysden Country Park (Kent)
Located to the west of Tonbridge, this scenic spot includes a lot of different terrain such as fields, tracks, woodland. The walk is a lakeside one and also takes in the nearby river. It's very dog friendly, which is one reason why it's usually very popular with dog walkers. It's also a big hit with families so you'll need to be prepared for crowds, unless your walks take place at slightly more unsocial hours!
Roddlesworth Resevoirs (Blackburn and Darwen)
This is a great dog walking spot, with opportunities for your dog to go off lead in the wooded areas. The full walk takes in both Upper Roddlesworth and Lower Roddlesworth Reservoirs. It comes back around in a loop to take you back up the hill to your original starting point.
The full route is several miles and is incredibly scenic. Be aware that parts of the route can get quite muddy and challenging if there has been a good amount of rain recently, so be prepared to have a mucky pup on your hands in this scenario!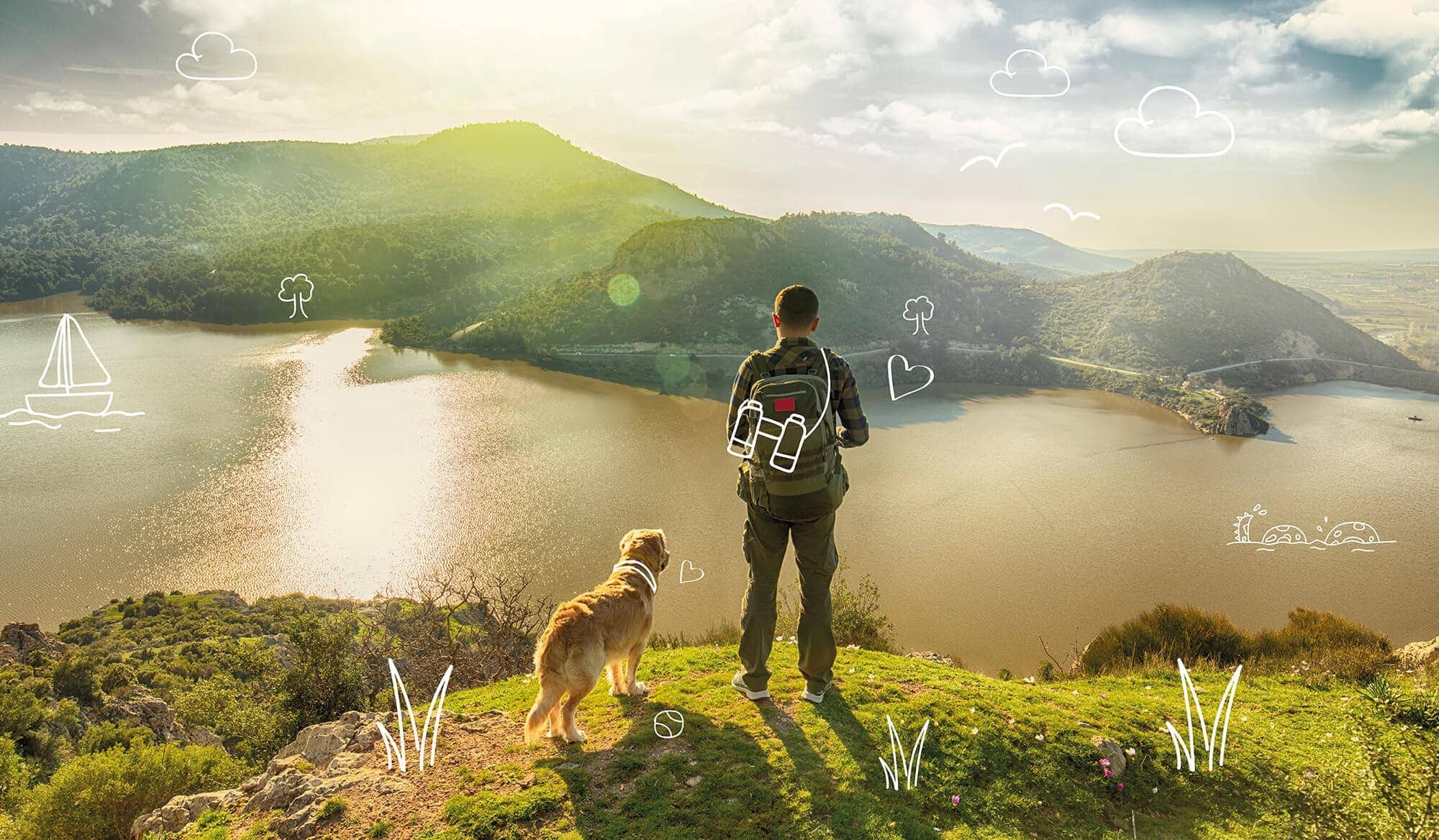 Sandymouth Beach (Cornwall)
This is a National Trust owned beach that starts with a dramatic cliff top view from the car park. The walk down to the beach leads you through quite a steep ravine, so take care. However, once there, you'll be rewarded with a lovely quiet beach with its very own waterfall. Dogs can enjoy letting off steam off the lead all year round.
Fritton Wood (Norfolk)
This relatively hidden gem in the Norfolk countryside has the option of walking through woodland or along the paths. It takes roughly an hour for the wooded route. All paths lead back to the road so you shouldn't get lost!
Dovestone Reservoir (Oldham)
Stunning scenery is the main attraction here, as you might expect from an area that is part of the Peak District National Park. It's a popular place for family days out and is frequently used for sailing, orienteering and of course, walking. There are lots of footpaths to explore on the main walk. Some parts of the route are hilly but others are flatter. At Chew Brook, there is a stream that is perfect for doggy paddling, though it's generally an all "on lead" walk. If you feel like trying out a more adventurous walk, a longer route takes in two more nearby reservoirs and some moorland.
Scammonden Dam (West Yorkshire)
There are two options here; you can do a circular walk around the dam's edge and go through the woods before returning to the car park, or for a more thorough workout you can go right the way around the dam, which take around an hour. There are a few off lead opportunities.
Belhus Woods Country Park (Essex)
There are woodlands, open fields and lakes here and it's mostly flat ground. For the most part, the trails are not that substantial or well marked so it's a good idea to get a map before you set off if you're new to the area. The two parts of the park are separated by a fairly well used country lane so you may want to stick to one side or the other to avoid needing to cross it.
It's fun to explore. Get complete peace of mind by having dog insurance cover in place. Dog insurance cover will help you with any unexpected vet fees should your canine companion need treatment.
You might also be interested in…
Existing customers
Call now on 0808 164 7999
to discuss your policy with us.
Monday - Friday: 08:00 - 20:00 Saturday: 09:00 - 14:00